Yu-Gi-Oh! 5D's World Championship 2010 - Reverse of Arcadia
「遊戯王5D's WORLD CHAMPIONSHIP 2010 - Reverse of Arcadia」
Release Date:
18th of February 2010
Price:
5,250 yen (inc. tax)
System:
Nintendo DS
Genre:
Card Battle
- The official software for the 2010 world tournament.
- Features at least
3,499
cards (whether or not this includes Speed Spells for Riding Duels is currently unknown).
- Features a Story Mode like that of the previous game where you can explore the world of 5D's.
- Features the handheld debut of
Divine
.
Promotional Cards:
WC10-JP001
Samurai Sword Baron
「サムライソード・バロン」
EARTH/Warrior - Effect/4/1600/1200
Once per turn, activate by selecting 1 Defense Position monster your opponent controls. Change it to face-up Attack Position.
Ultra Rare
WC10-JP002
Hell Security
「ヘル・セキュリティ」
DARK/Demon - Tuner/1/100/600
When this card is destroyed by battle and sent to the Graveyard, Special Summon 1 Level 1 Demon-Type monster from your Deck.
Ultra Rare
WC10-JP003
Hell Twin Cop
「ヘル・ツイン・コップ」
DARK/Demon - Synchro - Effect/5/2200/1800
1 Demon-Type Tuner + 1 or more non-Tuner monsters
When this card destroys an opposing monster by battle and sends it to the Graveyard, this card gains 800 ATK until the end of the Battle Phase, and it can attack once again in a row.
Ultra Rare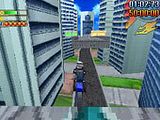 Manjyome Thunder
|
Games
|