Price: 500 Yen (incl tax) + Subscription Stamp etc.
Subscription Deadline: ?/2009
LE16-JP001
Ally Genex Durdark
「A・ジェネクス・ドゥルダーク」
DARK/Machine - Effect/4/1800/200
You can activate this effect once per turn during your Main Phase. Select 1 face-up Attack Position monster your opponent controls with the same Attribute as this card and destroy it. This card cannot attack during a turn this effect was activated.
Ultra Rare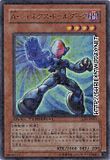 LE16-JP002
Demon Roar God Beast Rubilarda
「魔轟神獣ルビィラーダ」
LIGHT/Beast - Tuner/4/1100/800
When this face-up card you control becomes the target of an attack, negate that attack by discarding 1 "Demon Roar God" monster from your hand.
Ultra Rare
LE16-JP003
Dragunity Knight - Vajuranda
「ドラグニティナイト-ヴァジュランダ」
WIND/Dragon - Synchro - Effect/6/1900/1200
1 Dragon-Type Tuner + 1 or more non-Tuner Bird-Type monsters
When this card is successfully Synchro Summoned, you can select 1 Level 3 or lower Dragon-Type "Dragunity" monster in your Graveyard and equip it to this card treated as an Equip Card. Once per turn, by sending 1 Equip Card equipped to this card to the Graveyard, double this card's ATK until the End Phase.
Ultra Rare