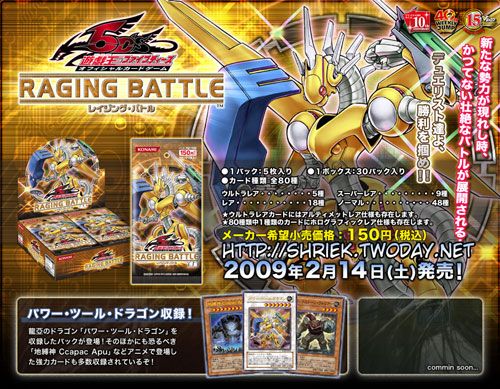 「レイジングバトル」
Raging Battle (604)
Release Date: 14th February 2009
Price: 150 Yen (incl taxes)
5 cards per pack, 30 packs per box
Includes 80 cards total:
5 Ultra Rare
9 Super Rare
18 Rare
48 Common
(Ultra Rare also as Ultimate Rare available, 1 of 80 cards also as Holographic Rare)
Features:
- Latest cards from the Yu-Gi-oh! 5D's anime included
- New cards of Yusei, Jack, Rua, Aki, Crow and others included, also a new key monster series that will appear in the anime.
- Allowing new strategies to oppose the current duel scene.
- Cover card is
Power Tool Dragon
---
Cardlist(Spoiler)
80/80
*/first version of spoiler done /*
- credits to GONDORA for the big images
- credits to pokekid and moonsp for several of the images
---