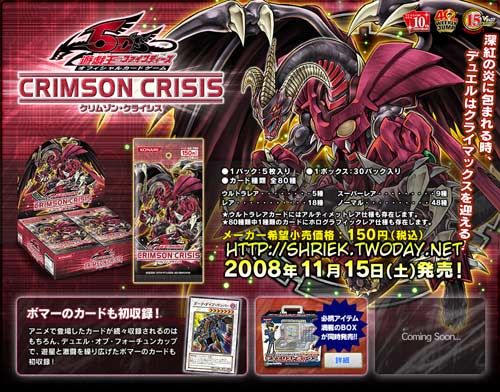 「クリムゾン・クライシス」
CRIMSON CRISIS (603)
Release Date: 15th November 2008
Price: 150 Yen (incl taxes)
5 cards per pack, 30 packs per box
Includes 80 cards total:
5 Ultra Rare
9 Super Rare
18 Rare
48 Common
(Ultra Rare also as Ultimate Rare available, 1 of 80 cards also as Holographic Rare)
Features:
- Third set of the 600 series.
- Many new cards and Synchro monster from the anime Yu-Gi-Oh 5D's included
- Also many cards that work together with already existing theme cards
- Synchro Monster will gain more and more power-ups and a new concept card will make it's debut.
- Features cards used by Fudo Yusei, Jack Atlus, Izayoi Aki, and Bomb/mer.
- Also features cards used by a new and important character who will debut in the anime in late October.
- The pack's cover features "Red Daemon's Dragon/Buster".
- "Buster" makes its appearance at the Jump Super Anime Tour
---
Cardlist
80/80
//Credit for most of the scans to GONDORA
//Credit for the first scans to RedEyesFan