Tournament Pack Vol.1 「トーナメントパックVol.1」
Release Date: May 2007
Includes 12 cards:
- 2 Parallel Rare Cards
- 10 Common Cards
- Features new cards, as well as cards that are out-of-print.
- In the future, a new Tournament Pack will be released every three months.
- Packs will be handed out to both tournament participants and winners.
1st: 5 Packs
2nd: 3 Packs
3rd: 2 Packs
Participation: 1 Pack
TP01-JP001
Token (Fluff Token) 「トークン(綿毛トークン)」
This card can be used as any token.
Parallel Rare

TP01-JP002
Voltech Kong 「ボルテック・コング」
LIGHT/Beast - Effect/4/1800/1000
When this card inflicts Battle Damage to your opponent's Life Points, send a number of cards from the top of your opponent's Deck to the Graveyard equal to the number of face-up LIGHT monster(s) on the field.
Parallel Rare

TP01-JP003
Petit Dragon 「プチリュウ」
WIND/Dragon/2/600/700
A very small dragon known for its vicious attacks.

TP01-JP004
Timeater 「タイム・イーター」
DARK/Machine - Effect/6/1900/1700
If this monster destroys a monster on your opponent's side of the field in battle, your opponent skips his/her next Main Phase 1.

TP01-JP005
Weather Report 「ウェザーレポート」
WATER/Aqua - Effect/4/950/1500
FLIP: Destroy all of your opponent's face-up "Swords of Revealing Light" cards on the field. If "Swords of Revealing Light" is destroyed, you can perform your Battle Phase twice this turn (or your next turn, if activated during your opponent's turn).

TP01-JP006
Yado Karu 「ヤドカリュー」
WATER/Aqua - Effect/4/900/1700
When this card is changed from Attack Position to Defense Position, you can place any number of cards from your hand at the bottom of your Deck in any order you desire.

TP01-JP007
Sphinx Androgunous 「スフィンクスアンドロジュネス」
LIGHT/Beast - Effect/10/3500/3000
This card cannot be Normal Summoned or Set. This card cannot be Special Summoned except by paying 500 Life Points when both "Andro Sphinx" and "Sphinx Teleia" on your side of the field are destroyed at the same time; then you can Special Summon this monster from your hand or Deck. When this card is Special Summoned, by paying 500 Life Points, increase the ATK of this card by 3000 points until the end of the End Phase.

TP01-JP008
Darkfire Dragon 「暗黒火炎龍」
DARK/Dragon - Fusion/4/1500/1250
"Firegrass" + "Petit Dragon"

TP01-JP009
Acid Rain 「酸の嵐」
Normal Spell Card
Destroy all face-up Machine-Type monsters on the field.

TP01-JP010
Inferno Tempest 「ヘルテンペスト」
Quick-Play Spell Card
When you take 3000 or more Battle Damage from 1 attack, you can activate this card. Remove all monsters in each player's Deck and Graveyard from play.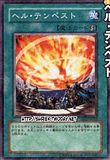 TP01-JP011
Reverse Trap 「あまのじゃくの呪い」
Normal Trap Card
All increases and decreases to ATK and DEF are reversed for the turn in which this card is activated.

TP01-JP012
Return from the Different Dimension 「異次元からの帰還」
Normal Trap Card
Pay half of your Life Points. Special Summon as many of your monsters as possible that have been removed from play on your side of the field. During the End Phase, remove from play all monsters that were Special Summoned by this effect.